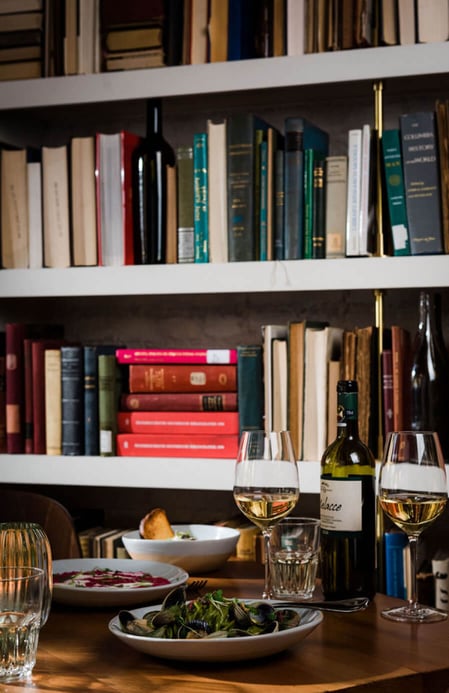 Osteria Accademia is the work of Huseyin Ozer & Murat Akinci whom both are the product of New York City Restaurant industry. Both hail from Istanbul and they are the team behind lovely Turkish-Mediterranean Leyla Restaurant on 108 West 74th St near Columbus Ave. Huseyin Ozer is a familiar operator for many residents of the neighborhood whom also ownes & operates Bodrum Restaurant on 584 Amsterdam Ave. As long time friends Murat teamed up Huseyin at Leyla in 2018 after working for Simon Oren (Nice Matin, L'Express, French Roast), Keith McNally (Pastis, Morandi), Paulo Secondo (I Tre Merli, Barolo) for over twenty years... Duo felt that above 90th St of the Amsterdam Avenue was under served by restaurants and decided to bring hip-casual-downtown style of spot to the residents of the neighborhood.
Osteria Accademia (Accademia for short) pays homage to classic New York Italian-American restaurants, where delicious meals are served in settings both comfortable and unpretentious. Accademia's menu includes house made fresh pastas, plus favorites like Vitello Tonnato, Polpetine, Linguini Vongole, Chicken Parm, and an elevated Linguini della Nonna (Grandma's Linguini). And don't forget the Vino! Accademia includes select wines from small vineyards throughout Italy, along with beers and Italian sodas.
Small & stylish, Osteria Accademia recalls cozy local places you might discover roaming the streets of Rome. In that small-proprietor style, our team shares many hats. Our Chef and his kitchen teamwork hand-in-hand with Accademia's owners and servers to ensure a family-style experience that's always about great food.
The word 'Accademia' means "a life, community, world of schools, teachers and education" and is quite appropriate as the place is close to Columbia University & many schools in the neighborhood. The word is also a reference to a library, a meeting place, and place for conversation — and is the inspiration for our comfortably stylish interior. Some 3500 vintage books repurposed from a decommissioned library line the glowing bookshelves of the room creating an inviting, sound-controlled, and conversation-starting setting to enjoy great food & wine with friends.